Spring is always inspirational – there's something about the lighting through freshly budding branches that gets the memory going. Some kind of seasonal nostalgia, I think. Which I personally think is why I get so inspired to do creative family photography sessions in springtime! I'll look outside, and the idea just hits me. But since I try to make sure I test my concepts personally before using them in client sessions, it often involves late-night calls and on-the-fly requests to close friends and family. I've been lucky in this aspect and am incredibly grateful that my circle knows the importance of a good photo!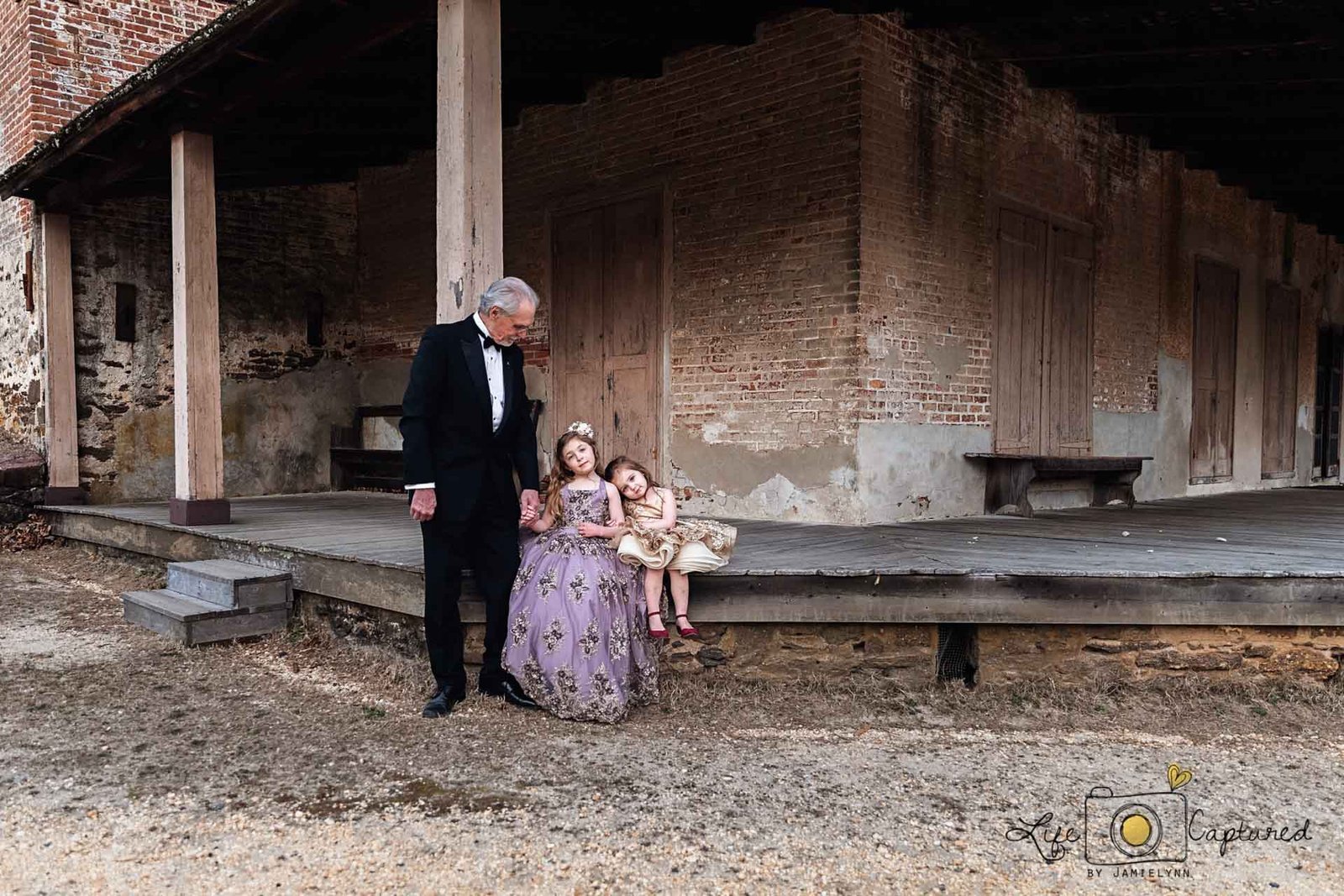 Pop-Pop and My Girls
It came as no surprise when my Father-in-Law jumped at the chance to do a spur-of-the-moment family photography session with my girls in the park on a lovely day. My idea was simple, really. I wanted frilly dresses with flowers, full skirts, and long, wavy locks floating in the breeze—something to pay homage to Spring. I asked dad to come wearing a suit, and when he arrived, he had on a full-blown tuxedo complete with a black satin bow-tie and white gloves to boot. And it couldn't have been more fitting!
We often forget to include grandma and grandpa when it comes to family photo sessions. Most of us have photos with our mom, dad, siblings, and even pets – but not grandparents. This is why I love including grandparents in family portraits, either on their own or with mom and dad. Having some candid photos of your children with their grandparents will capture cherished memories they can keep forever and travel back to where they grew up. Looking at those photographs will bring all the emotions and memories back when your kids have grown, and are flying the nest themselves.

Family Portraits with Grandparents
If your family isn't quite as willing to jump at the opportunity for photos as mine, don't worry. I know that there are many people who feel nervous in front of the camera, or who simply don't want certain phases of their lives to be documented. We're all still waiting to lose that last leftover five pounds we gained during 2020, am I right? 
But if your family is less interested in getting in front of the camera themselves, their minds may change when they get the option of having portraits with their grandkids! They'll want to be able to look back on their kiddo phase when they're suddenly disinterested teens, or young adults who're off to college. The memories are just as valuable for them, as they are for you and your kids! That's definitely been the case for my family as well. 
Related: Why a Professional Photographer is Better Than Your iPhone

Sharing Family Portraits
After we did the shoot, I rushed to see the final results. And when they were finished, I immediately loaded the best ones onto my Facebook page. I loved them, after all! The post ended up going viral, and I was in shock. I still am. But, regardless of virality, I created something that more than 40,000 people found relatable. And I was overwhelmed at the outpouring of heartfelt comments I received. People from all over remembered their grandfathers, and shared photos and stories of how these pictures impacted their lives. It made me feel grateful and solidified my philosophy that family photography is essential!

Preserving Emotions in Family Portraits
Good photography seeks to activate strong emotional responses. Pictures force us to feel whether it's a call to action, humor, or serenity. They can help us stay close to the loved ones we've lost, keep us laughing, and inspire us to become the best version of ourselves. In short, photos have the power to move, teach and reveal. Undoubtedly, a picture is really worth a thousand words and even more emotions. That's why I love what I do – I get to help people preserve those emotions. Freeze them in time. This is especially true for family portraits!
At any minute, it's possible to flip through an album and be transported to a different place that activates our best memories; these captured moments tell the stories of our past and present. They give an inside scoop into what we think is beautiful and how we view the world. 
Looking Back for Years to Come
My girls will get to revisit these family photos whenever they please. And they'll remember how fun it was to be involved in such a special family project with their Pop-pop. They'll remember their grandfather and his white gloves and how fun it was to twirl around with a full skirt. They'll have the photos of a day in the park with their grandfather forever. And they get to tell the story of how he showed up in a tux to their children, and their children will tell it to theirs. The beauty that these photos possess and the feelings they evoke will be perfectly frozen in time.
I would be honored to freeze those moments for your family too! 
If you are looking for beautiful, professional family photography in the Medford, New Jersey area, please contact me to schedule a session!