Holidays are a time for making important memories with friends, loved ones and family. Nearly all children grow up with a special memory of the first time they met Santa Claus. Now we can provide that special memory for you, with professional photos to prove, once and for all, that Santa is real! Every perfect moment becomes a precious memory, and above all, is preserved as a keepsake photograph.
I'm not content for you to have just digital files on your computer waiting for the moment you have time to do something with them.  Most importantly I want to help you display them.
Below you can take a peek at some of the special products featured for our Santa Experience sessions this year. 
Wood Ornament
The single handcrafted wood 3.5 x 3.5 ornaments come with "Merry Christmas 2021" on a finished 1/4 inch wood on one side and your picture on the other.
10×10 Wood Solos
First your photos are printed on high quality UV resistant material and then mounted on 3/4 inch birch wood. Circle or Square options and can  include a key hole on the back for hanging or choose to have these ready to hang with jute, secured with decorative studs.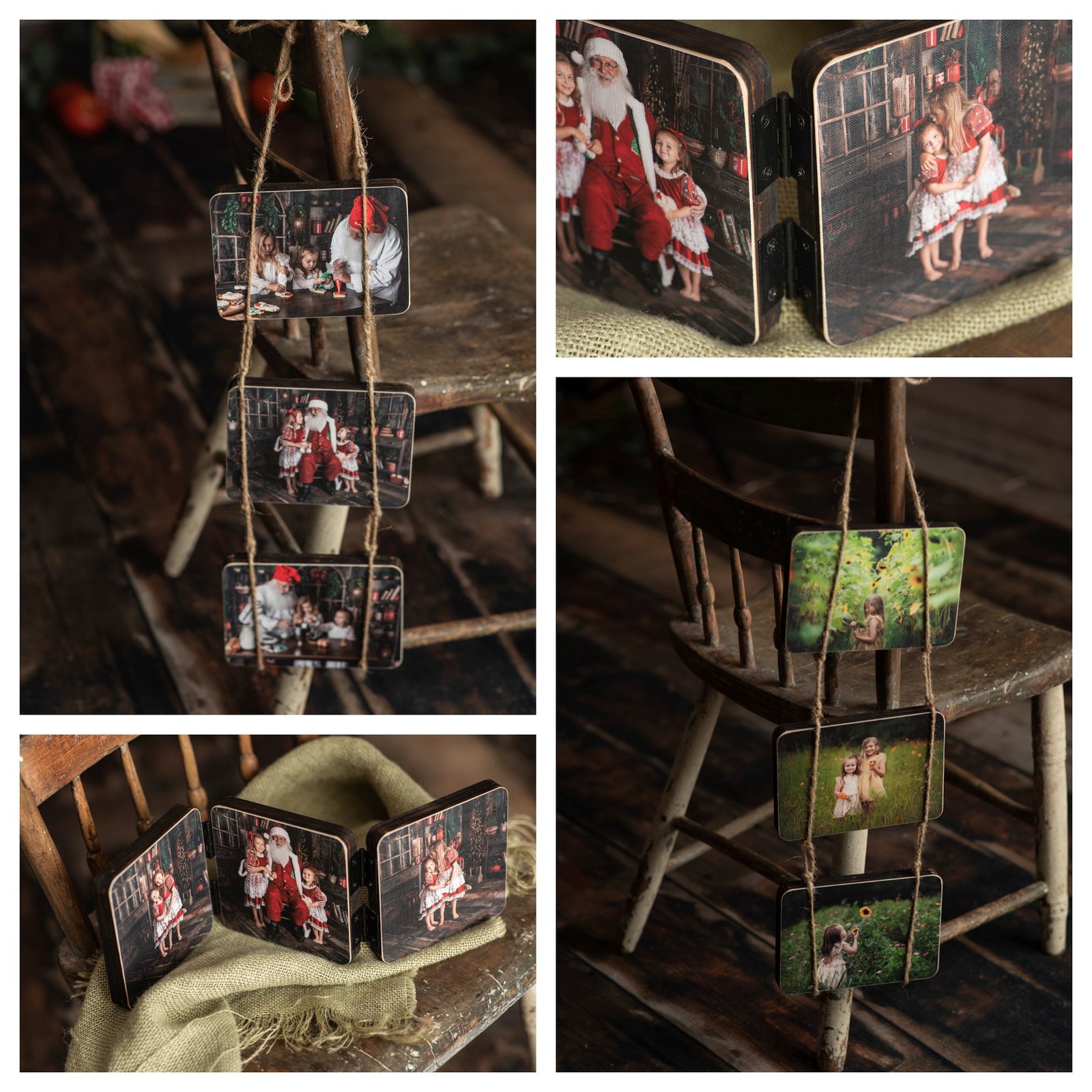 5″ Wood Trios
Three photos printed on high quality UV resistant material and added to birch wood squares.
They can be assembled with dark hinges or secured with jute for hanging. (Hinged Trios are 5×5 and Hanging 5×7).
In addition, you can choose a double-sided trio to display 6 photos (you can use photos from any past session with me as well!).
20×30 Collage Frames
This collage includes (1) 8×10 and (4) 5×7 prints matted in a custom frame.  Additionally customize your frame to match any design aesthetic as we offer numerous colors and finishes.