Newborn photography editing is an art form in itself. I pride myself on capturing gorgeous images of your newborn, but the journey doesn't end once I snap the shutter. It actually begins in classes, where I was educated in newborn safety, and ends in my office, editing composites! As a professional photographer, I take great care to ensure the safety and well-being of every newborn I photograph. This means participating in educational training, and mastering the art of editing newborn photography with composites. 
Most people don't realize that newborns are not as fragile as they appear. In fact, newborns are quite resilient and can withstand a fair amount of handling if they are well-fed and content. However, it is still important to handle them with care and respect for their delicate nature! Though resilient, their little bodies have very specific anatomical differences from toddlers and older children. As a photographer, I have to keep that in mind during every session (and after, when I'm processing your images)!
Why A Professional Photography Studio is Best For Newborn Photography
Often I'll see people posting in Facebook groups that you can do your own newborn photography at home. Their idea is usually that you don't need a professional to take photos of a newborn since they are not mobile. This falsehood is very worrisome because newborns are surprisingly strong when they move, especially if they are moving because they are startled or scared!
I work on tables and props specifically designed for the art of newborn photography, always within reach of the baby, and always with an assistant with their hands on or inches away from the baby out of the camera frame. Without someone trained to do this, capturing elegant newborn photography is nearly impossible. 
Are the newborn photographers you are considering fully trained?
The Right Lighting and Props For Newborn Photography
It is also important to note that I have the right lighting in my studio in Medford, New Jersey, so it doesn't harm your baby's eyes. Many props and safety measures are in place. The studio is set at a comfortable temperature for babies. My assistant and I are experienced "baby whisperers" and know how to quiet a baby and get them sleepy and ready for those adorable photos you are looking for!
Read why your iPhone isn't meant to capture newborn photos.
We also have newborn-specific high-end clothing, wraps, and props available, so you don't have to spend money on something your baby might literally only wear once!
The Art of the Composite: How We Create Those Adorable Poses
When you see those cute photos of babies in a "froggy" position holding their head in their hands, that's an artistic rendering done partially in-camera and partially in Photoshop. Resting a baby's head in their hands in this way without support can be dangerous without proper training. Please do not try this, or any other pose like it at home!
I've had extensive training in Newborn Safety and am very familiar with the anatomy of newborns and body positioning, so you can rest assured that I will never put the baby in a position that could harm them. In fact, most babies sleep right through the session! Being a baby whisperer pays off!
With the help of my assistant, the baby is hand-assisted into poses where they are fully supported. I then remove the supportive hands or fingers in Photoshop. By the time you receive them, because your newborn session has been edited, you'd never know there was a hand there in the first place!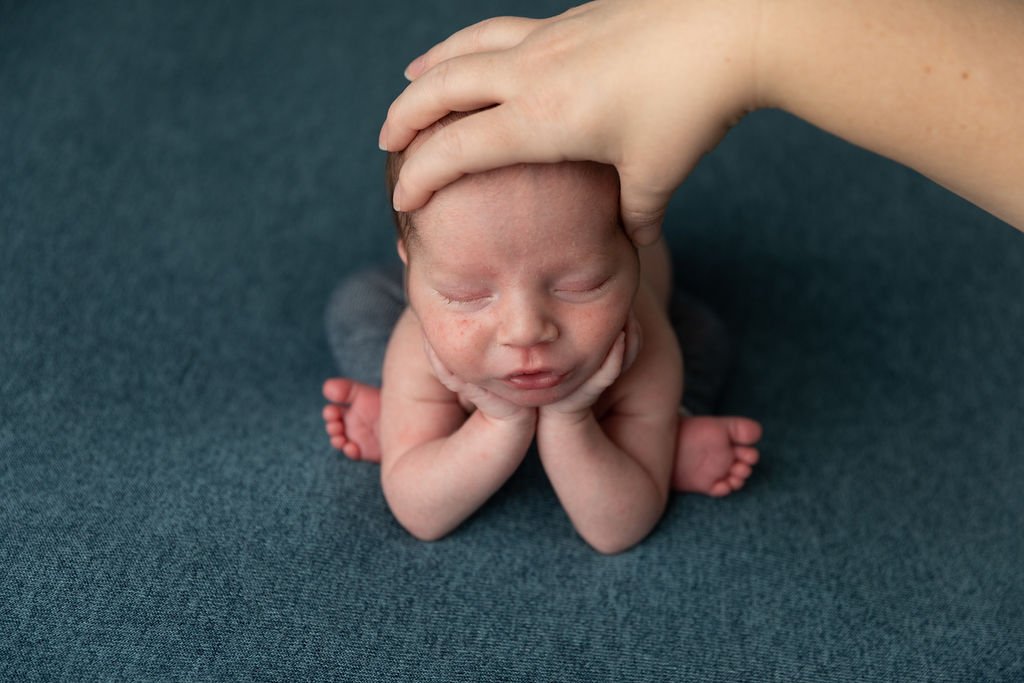 Editing a newborn photography composite in Photoshop is a skill that takes years to perfect. I have been building and working with composites for about seven years now, so I understand exactly the right positions and lighting conditions to make the photos look realistic and beautiful. Even the slightest head-tilt or shadow can throw off the image composition. Then suddenly, the final composite of your little one looks like they have a dent in their forehead, and you don't know why! 
Skin Editing Newborn Photos
A common worry about newborn photos is the appearance of baby acne or jaundice, which can happen within the first few weeks of life.
I use specialized software to perfect your baby's skin tone, removing any blemishes or discoloration. This means you can have beautiful photos that you will treasure forever that won't look plasticky or overly retouched.
When you receive your final edited newborn photos, you will be absolutely amazed at how beautiful they are! I take a lot of pride in my work, and I know that you will be thrilled with the final product.
If you are looking for beautiful, professional newborn photography in the Medford, New Jersey area, please contact me to schedule a session!