I have been photographing newborns in my studio in Medford, New Jersey, for years now, and there's nothing quite like newborn photos. It's hard work, but the best kind of hard work. Newborn baby photoshoots are very intimate and special to me, and the biggest part of my business because I love them so much!
Why Newborn Photography Sessions?
Those first few weeks with your newborn really do fly by, it's amazing how much they change in that first month alone.  I have newborn photos of all of my children, and when I look at them, it just brings back the memories of that sweet newborn phase. If you're pregnant, please consider newborn photos — they are so much fun to look back on!
Having newborn photos can help those memories of those first weeks after birth really come alive in years to come. Newborn sessions are wonderful because they capture your newborn at a time when they're most relaxed and comfy in their own skin, helping parents treasure these first few weeks together.

How often should you do photos after the newborn session? Here's some milestones to consider!
When do I book my newborn session?
I encourage you to book your newborn photo session in your second or third trimester. This gives us plenty of time to plan the session, and I'll save a spot for you on my calendar. Once the baby is born, then we schedule the date of the session.
What if my baby comes early (or late?)
Babies come on their own schedule! For that reason, I am extremely flexible on time, so don't worry..I'll fit you in! Once you are on the schedule I only take a limited number of bookings for the weeks so I can move things around if needed.
What Age Are Newborn Photos Taken?
In general, newborn photos are done in the first few weeks of life at about 1-3 weeks. The baby is usually very sleepy and squishy at this age, and we can get some great photos of them in the curled-up positions that you've seen and loved.
However, as we know…babies come on their own schedule! If your baby had to stay in the hospital for a while, or if you just had other things come up, please do not skip newborn photos because you think your baby has gone past that stage. I have done many sessions with "older" newborns (up to three months!), and they turn out wonderfully.
Before Your Newborn Photography Session
Before your newborn session can begin, we'll be working together by having a pre-session consultation.  If you have any fears or worries, please let me know…it's very common for new moms to be worried. I've been there! My number one priority is you and your baby feeling safe and secure.
Newborn Safety During Your Photo Session
Myself and my assistant are fully vaccinated and wear KN95 masks at all times for the safety of your family and ours. 
The studio is fitted with a hospital-grade HEPA filtration system, and the studio is cleaned after every session and has a deep clean by a professional cleaner weekly. In addition, I limit traffic in the studio to no more than one session per day and three weekly.
Newborn Safety in Regards To Posing
If at any time your baby (or you) feel uncomfortable with a pose , we stop immediately. No photo is worth the baby's discomfort! This studio recognizes that baby is the boss, and we follow their clues very carefully.  My photography style is a mixture of posed newborn photography and other details of the baby's face and other cute poses, but I always want you to feel comfortable during the session.  Every newborn session my assistant Laurie is present to assist with spotting and helping to keep baby safe at all times.
Newborn Photography Safety Training
I take my role as your newborn photographer as seriously as the nurses and doctors that helped deliver your baby. I invest in ongoing training for myself and my assistant and have trained with Amy McDaniels of Dewdrops Photography, a leading educator in newborn photography. In addition, Life Captured by Jaimelynn was voted a Master Newborn Photographer by the National Association of Professional Child Photographers.
Where Your Newborn Photography Session is Held
Your session will be held in my comfortable, climate-controlled photography studio in Medford. All the photos you see on my website and social media were created there, and I have everything on hand that you need including diaper cream, new pacifiers, and diapers.
While I understand some newborn photographers offer sessions at home, I have found that these sessions are not as successful. No matter how hard you try not to fuss, it's hard to have people in your home right after you have had a baby.
It also takes much longer doing sessions in-home rather than at my photography studio because I have to set up lights, bring props, etc. I found these sessions to be more stressful on my clients, so my philosophy is that I want you to walk into my studio with whatever you need to feed baby, a diaper, and a pacifier and leave the rest to me. Sit back, relax and let me do my magic! 
What Do You Suggest For Clothing for a Newborn Session?
Do not run out and buy clothes for your newborn! If this is your first child, you're not going to believe how big 0-3 month sizes are on newborn babies. I have a client closet of beautifully made, high-end outfits designed for newborns. If you have something you want to bring, that is totally fine, but you do not need to…the focus is on their sweet faces and tiny toes and fingers first! 
Newborn Photography Props During Your Photoshoot
I have many newborn photography props, including swaddles, headbands, and items specifically made to be used in newborn photography. Again, bring something if you wish, but you do not have to run out and purchase anything before your session.
All items in the studio are laundered and sanitized between uses.
Siblings and Parents and Newborn Photography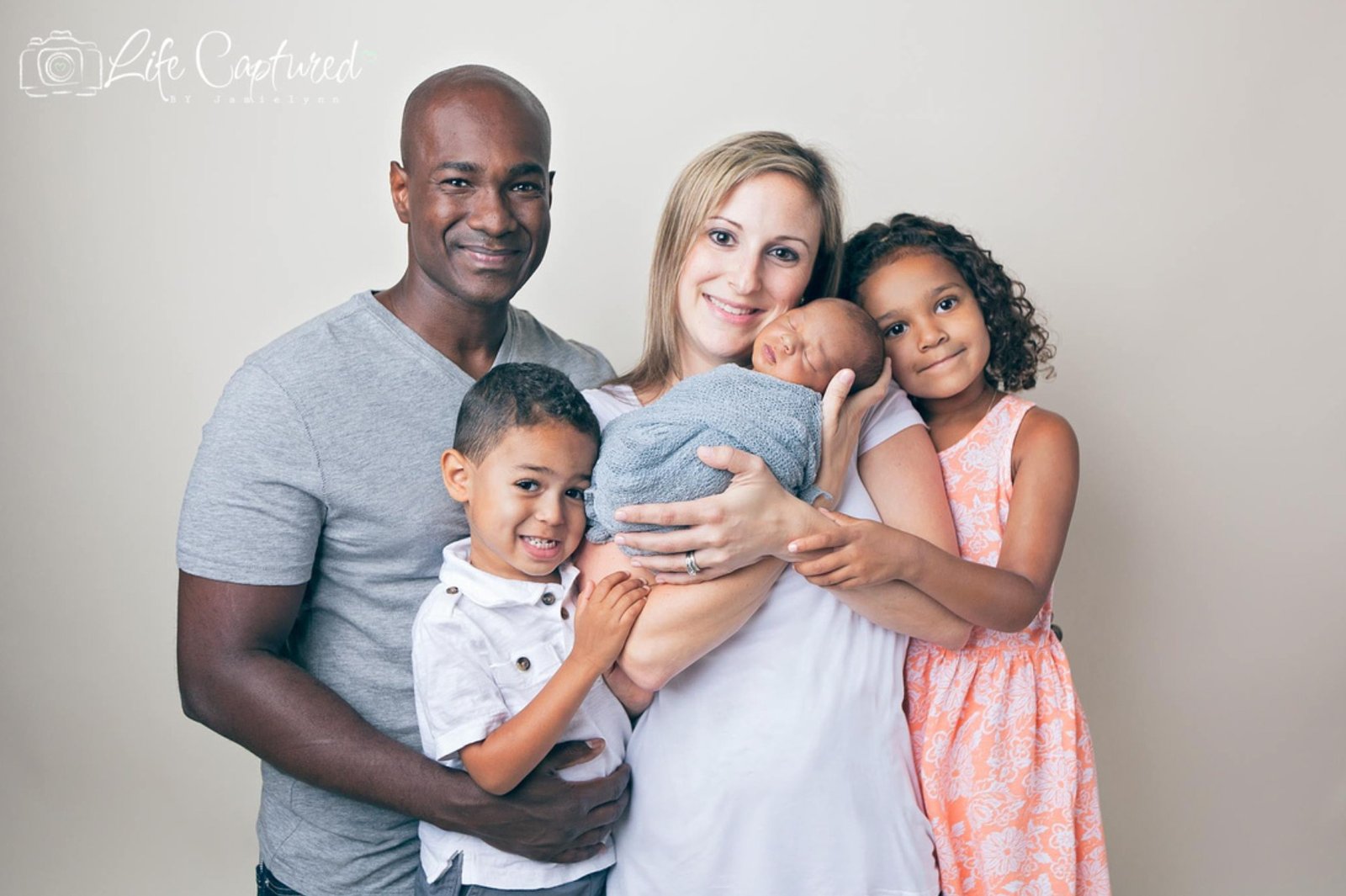 I'm always happy to include parents and siblings in photos at your newborn photo session. After all, this is a really exciting time for your family, and it deserves to be documented with timeless photos.
Best tips for sibling photos with newborns

My number one tip is; leave it to me. It's my goal that you not only have beautiful photos but that you have a pleasant experience in the studio. I've got extensive experience with shy kids, loud kids, reluctant kids…you get the idea. I'm a mom, so really, truly…nothing will surprise me!
We'll do the photos of the family and kids first, so a really great tip is to bring someone along who can take the kids home when they are done. That way they don't have to wait for the baby to be photographed, and everyone can relax!
Specific photo requests for newborns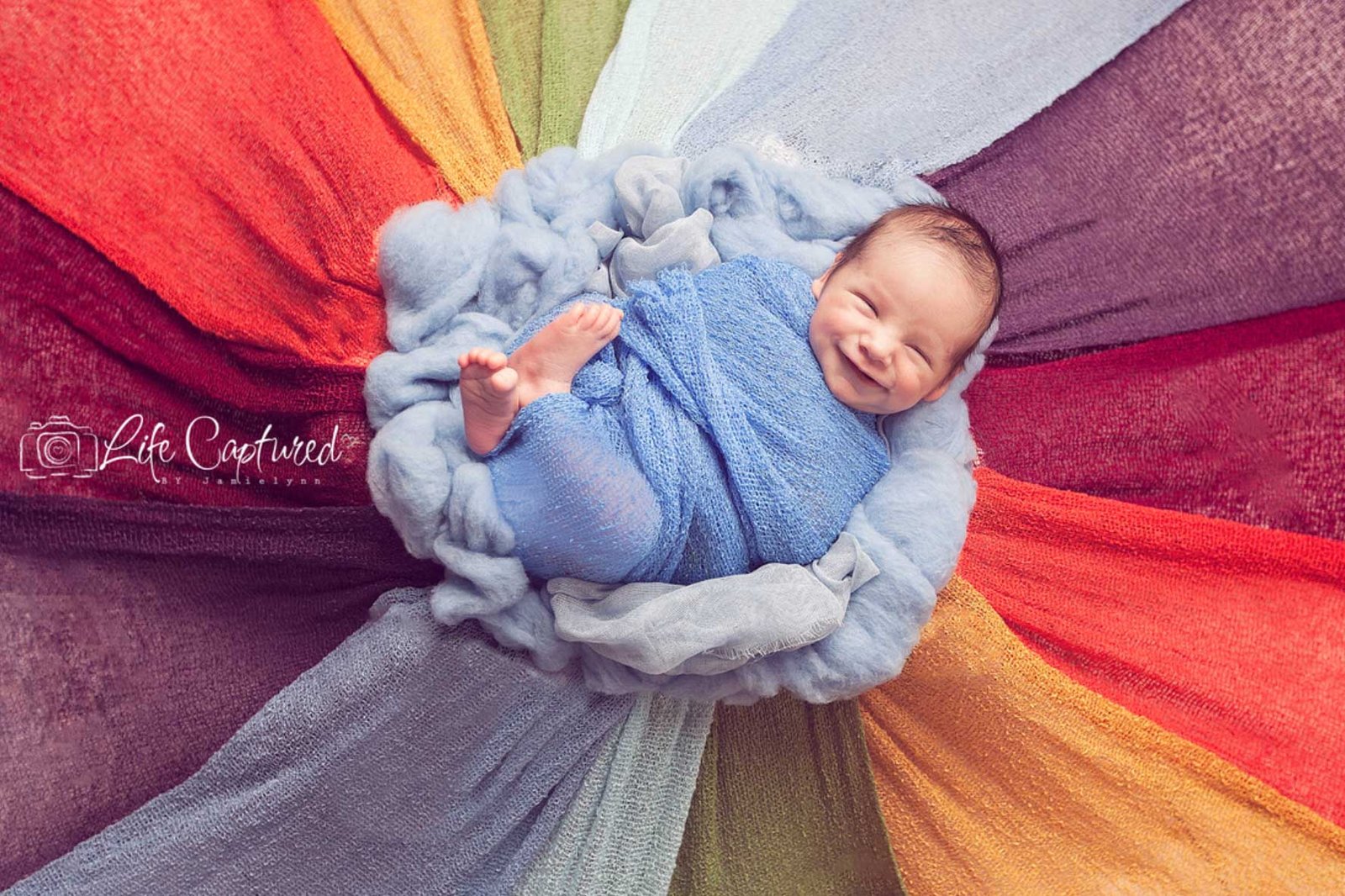 If you've seen a photo you love, I'm happy to discuss it with you and see if it works well in the timeline we have for your session. However, that does generally limit the number of poses we can accomplish during a session.
Many of the popular photos you see online (like the baby holding its head up in its carefully folded hands, or the "froggy pose") are actually composite images, which are several images taken of the baby and then manipulated in Photoshop after the session. These poses can take quite a while, even with a compliant baby.
For the best variety and the most natural poses, I suggest allowing me to utilize a specific flow I use for sessions to get as many variations as possible. We will talk through all of this at your pre-session consultation so I fully understand the look that you desire.
Editing of Your Newborn Photos
All of your purchased images will be fully edited and ready to hang on your walls. In some cases (especially family photos), head swaps may be done to get the best expressions and make sure everyone looks great in the photos.
Choosing Your Newborn Photos
About two weeks after your session, we'll meet again for your ordering appointment, and I'll show you the photos that will soon become a part of your family! We can meet here in the studio or via a Zoom call. At this appointment, I'll help you pick the perfect collection for your needs, and the final payment will be due at this time.
After your appointment, I will order your wall art and fully edit your chosen digital images. Wall art and products can be hand-delivered to your home (if you are within 30 minutes of the studio) picked up at the studio, or shipping can be arranged.
Average Investment For Newborn Photography
I'm not content for you to have just digital files on your computer waiting for the moment you have time to do something with them; my job is to help you display them! I'll help you get those treasured memories on your walls where they deserve to be. Collections begin at $850, and most clients invest between $1000-1500.
A Few of My Favorite Ways To Display Your Newborn Photos
First in my mind during your session is that the art we create will be deeply personal to you. These photos represent love, family, and commitment. It's my goal that you will be proud to hang them on your walls!
Framed Print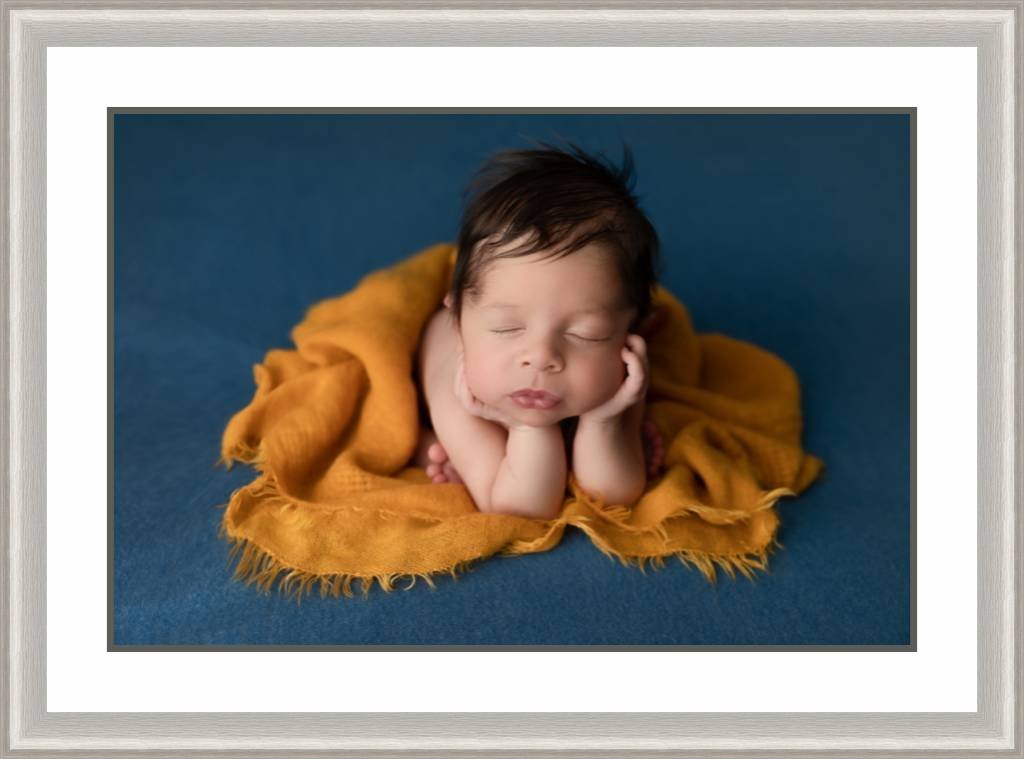 Classic and timeless. Choose from many contemporary styles. Custom matted and framed to match your home.
Collage Frames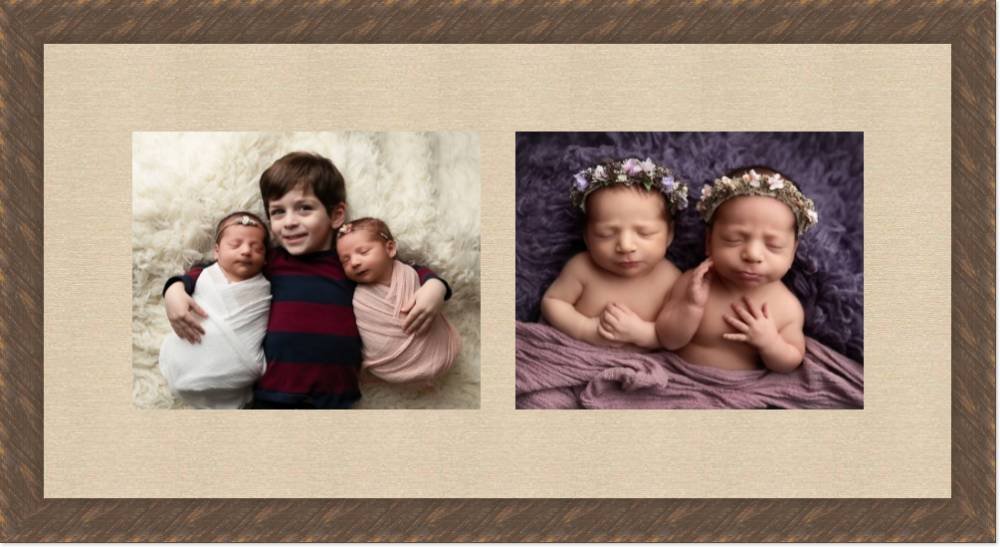 These are super popular for sibling photos! Collage frames can hold anywhere from 2-6 photos to be displayed in groups or as a standalone collage in your home. Also awesome for maternity and newborn session grouping.
Hanging Canvas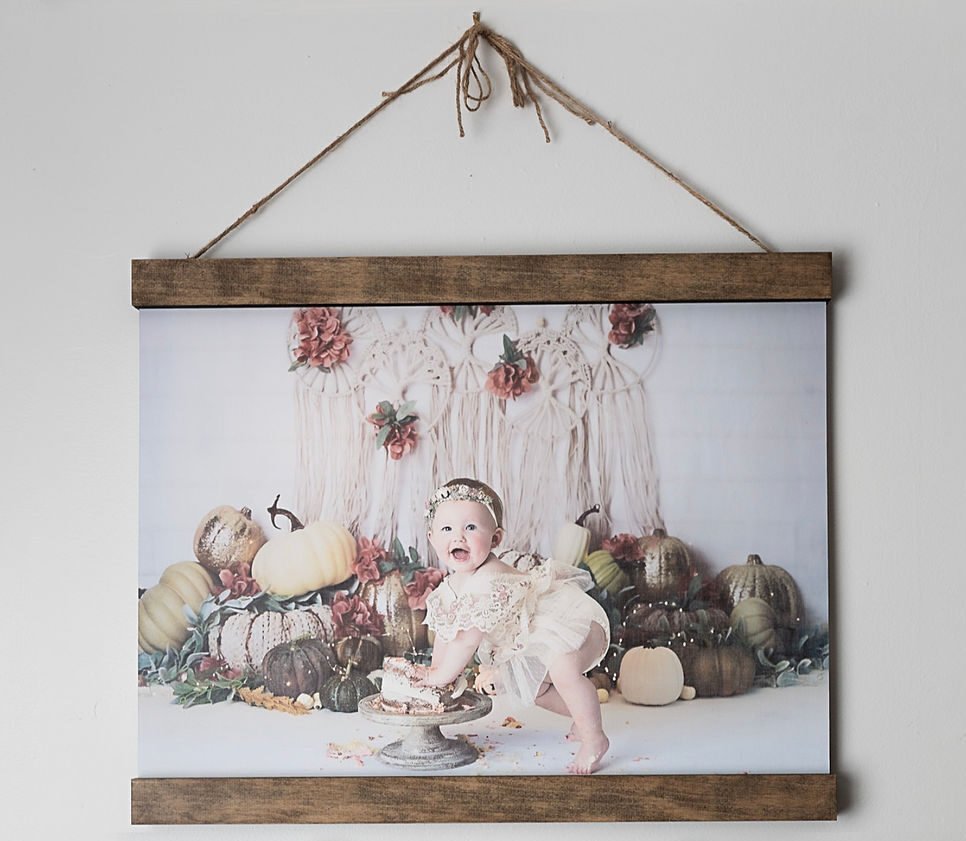 Our hanging canvas is a beautify way to display your photos. The photos are printed on high quality UV resistant canvas and mounted onto a thin piece of Polystyrene. Birch wood is used to complete the display, framing the top and bottom of you photo. Each print comes ready to hang with decorative and durable jute/twine.
Wooden Solos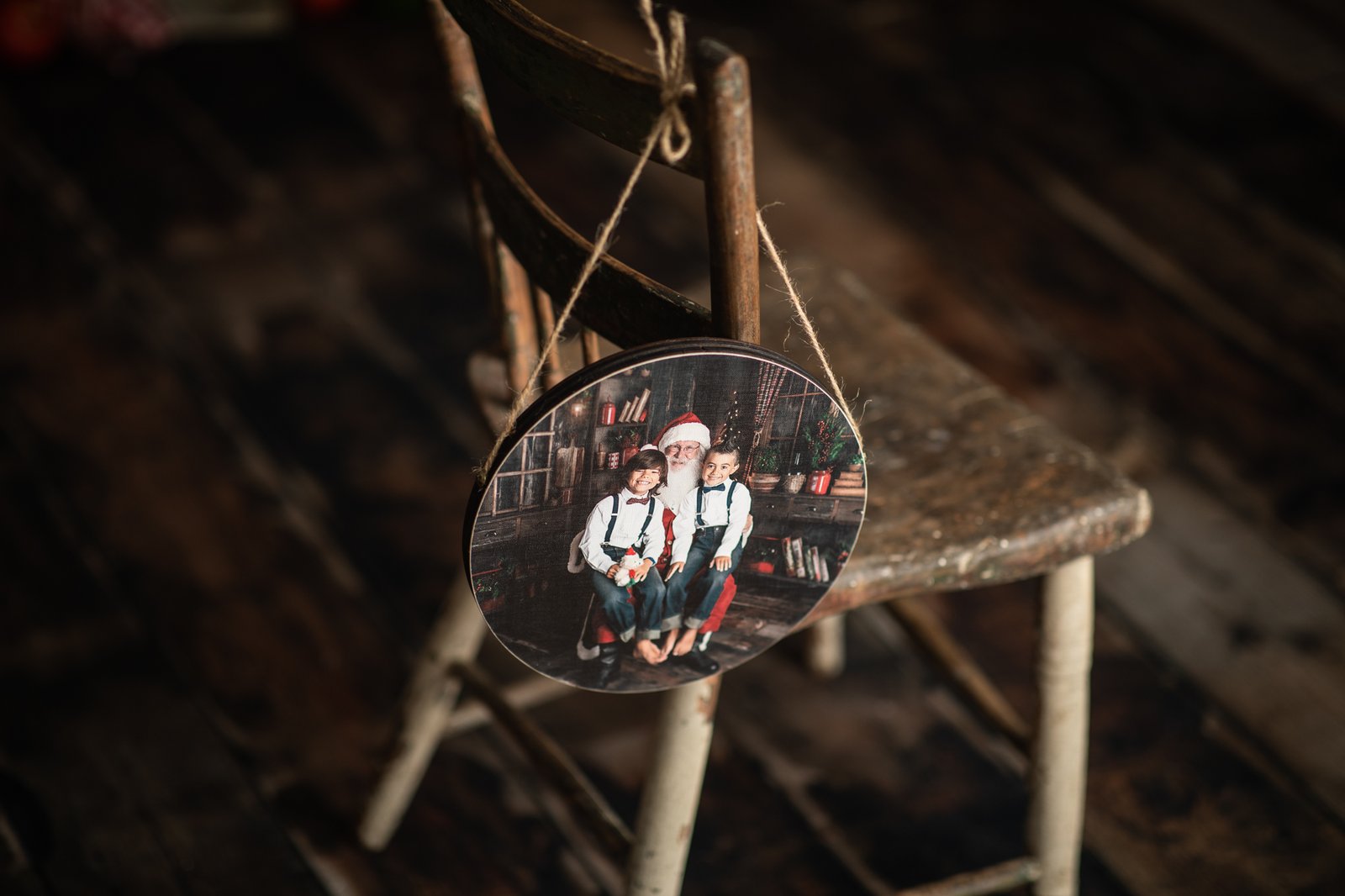 Available in square or round, these whimsical lightweight prints on wood are, of course, a great ornament, but cute enough to hang year-round!
Hanging or Hinged Trios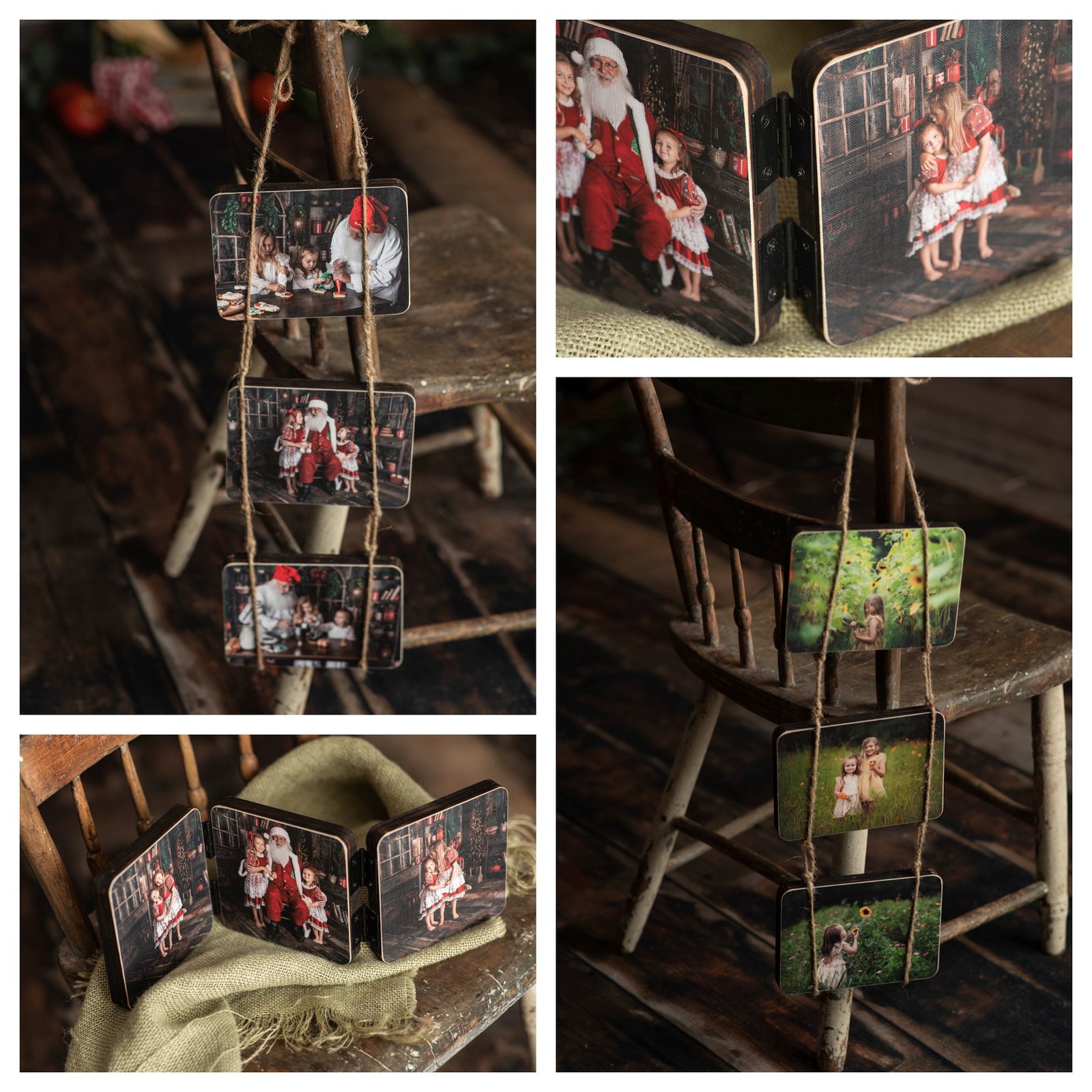 These popular gift items can be single or double-sided.  A great alternative for a desk print for the office, or as a grandparent gift!
Wall Murals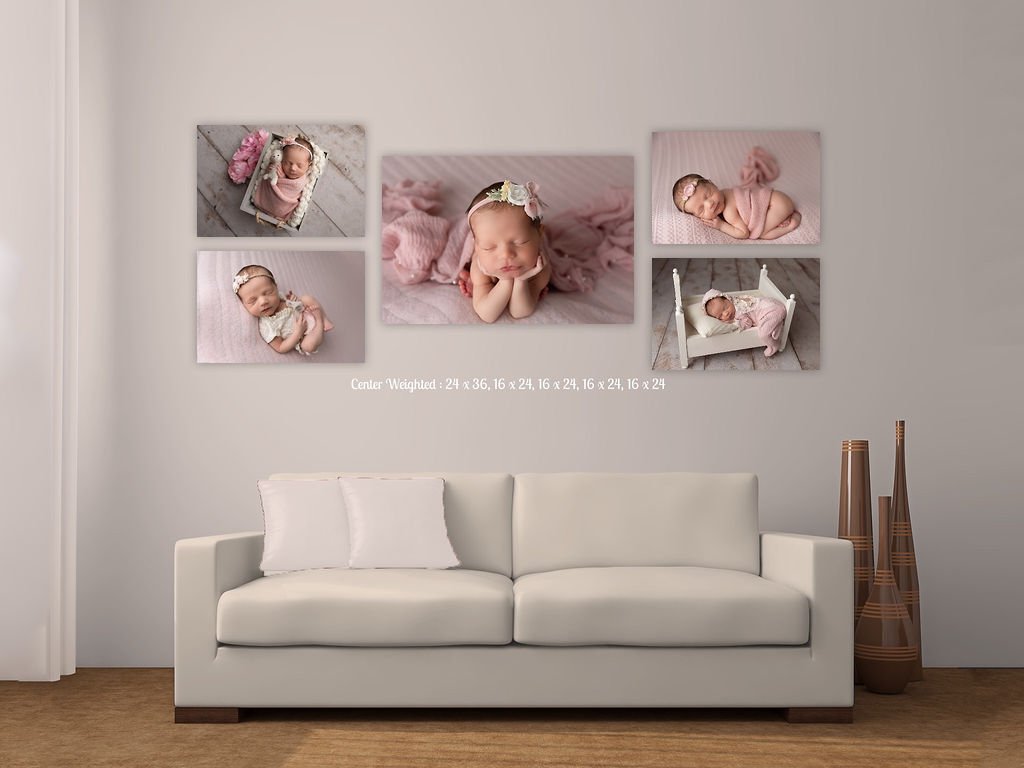 These striking art pieces can be displayed framed, or you can go with a wrapped canvas and hang as-is for a more streamlined look. I work with you to determine the perfect photos and configurations for your wall and your decor aesthetic.
I'd love to be your Newborn Photographer!
I hope you can see and feel that I put a little piece of my heart into every photo. My full-service studio approaches each session with the goal to capture timeless, polished images for your family's story!  If you'd like to talk more about booking a newborn session with me, please get in touch.